Book: Raising Kids for True Greatness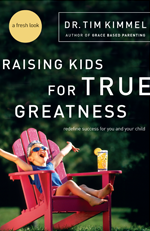 How do you define success for your child?

"Graduates from a prestigious college."

"Nabs a high-paying job."

"Settles down with a nice family."

Sounds good. But what if you got it all wrong?
You want only the best for your kids. And you want them to be successful. Sure, there's nothing wrong with that. But what if there was something more? Could your definition of success be leaving out the most important part?
What about greatness? Where does it fit in? "If you aim your children at anything less than greatness, you'll set them up to miss the whole point of their lives," says author Tim Kimmel. In Raising Kids for True Greatness, Kimmel turns the definition of success on its head and guides you in preparing your child for a life that will easily eclipse the goals of those who are merely successful.
Learn how to prepare your kids for rich lives of true greatness by helping them find answers to life's three most crucial, life-changing questions regarding their mission, mate, and master:
What are they going to do with their potential?
Who will they spend their lives with?
Who will they live it for?
Instill a higher calling, a bigger-than-life reason for existing and you'll do something for your kids that outlasts your own life—you'll raise them for true greatness.